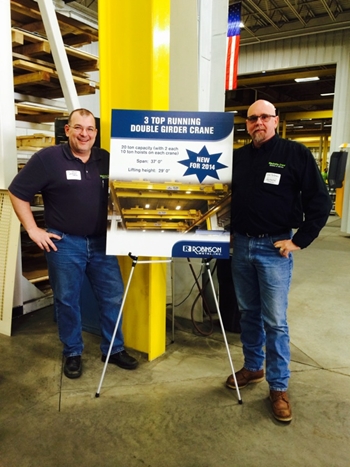 Jim and Steve first met back in the 1970s as children. They didn't know it at the time, but one day the two would reconnect when fed up with working for companies who held lesser standards of expertise. Flash forward a few decades and both were grown, having fine-tuned their individual craft of cranes year in and year out. In the crane industry across Wisconsin, insiders knew Steve to be the best in the business when it comes to installation (keep in mind, this is the guy who's able to install 500 ton cranes like it's nobody's business but his own). Likewise, Jim could (and still can) practically build an entire line of overhead bridge cranes in his sleep (but he stays awake for good measure), manufacturing them from scratch and guaranteeing unparalleled durability.
This was definitely the beginning of a beautiful friendship.
The crane business is yet another industry where everyone is looking to reduce costs without sacrificing safety and quality. With OSHA standards bearing down and even larger fines at play, corners can never be cut when it comes to a safe work environment. Recognizing this need, Jim and Steve launched Waukesha Crane, a full-service overhead crane company with decades of experience providing for customers throughout Southeastern Wisconsin. OSHA mandated inspections and OEM replacement parts were already second nature for their crew. As overhead bridge crane experts, Waukesha Crane continues to be available 24 hours a day, 7 days a week, understanding that downtime on material handling equipment equals lost productivity for you!
Contact us for more about the top overhead bridge crane services provided by Waukesha Crane, an unbeatable source for electric chain hoists and industrial crane systems.