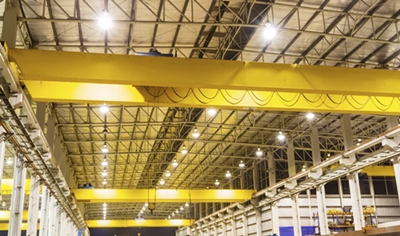 Just like our name proudly states, Waukesha Crane is based right in the heart of Waukesha, Wisconsin, serving the industry as a manufacturer of overhead cranes with quality components. In reality, we service beyond the Milwaukee area, able to install overhead bridge cranes anywhere you need us. With our own semi-trucks on staff, we manufacture a range of cranes right in our Waukesha County shop and then transport and install them wherever your facility is located. This is what truly superior crane equipment services are all about. Our sole passion is cranes - and we take enormous pride in the fact our customers' expectations are exceeded.
Single and Double Girder Cranes
The overhead bridge crane systems we manufacture have been installed by our certified technicians across the state of Wisconsin, in Fox Valley and Green Bay, as well as in neighboring Illinois. Prominent locations in Chicago are home to the durability of our single girder cranes, as well as our double girder cranes. We service all types of markets, from steel processing and oil and gas facilities to aviation and paper mills. Shipbuilding and warehousing are also prominent customers of ours.
Top Running Crane Solutions
Other Illinois locations have been home to our top running girder cranes, always made with quality which is superior to our competitors. Our finished jobs always leave your operation abiding by OSHA standards. With custom crane lifting beams designed for safety, durability and simple operation, the overhead bridge crane techs on our staff can quickly and affordably perform your OSHA safety inspections. For top running overhead cranes and a whole lot more, we make Waukesha Crane your only answer.
Contact us today for the most creative overhead bridge crane system solutions in the industry.