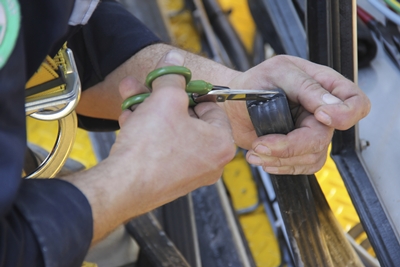 Transmitting power to a mobile piece of equipment is a job for a conductor system. Waukesha Crane carries Figure 8 conductors and heavy duty conductors with stainless steel running surfaces. Overhead cranes require access to power whether they are stationary or mobile. Connecting the equipment to a conductor bar system with a current collector allows constant power draw at any point along the track. Whether you are looking to power one light duty electric chain hoist or several heavy duty cranes, Waukesha Crane has the power conductor systems for stronger crane electrification. Easy to assemble and install, Figure 8 conductor bar systems can be used in almost any setting with minimal difficulty.
Side and Bottom Contact Figure 8 Conductors Available
Reliable, safe, and economical, Figure 8 conductor systems are a standard solution to many mobile power supply needs. Wrapped in an insulating cover, the conductor bars are protected from the elements while providing electricity along the entire length of the system. Figure 8 is available with different covers for indoor, outdoor, and high temperature applications. General-use bottom contact conductors run along the underside of a surface and the shoes collect power from the bottom of the bar. If your facility does not have room for an overhead power conductor system, side contact Figure 8 conductors allow your shop to run the system along a wall and draw power from the side of the conductor. Waukesha Crane stocks enough Figure 8 conductor bar systems to supply electrification to almost any size shop, including all of its pendant station enclosures, as well as its variable frequency drives.
Electrification: Conductor Bar Systems for Heavy Duty Use
For heavy duty applications, Waukesha Crane has crane equipment services conductors with stainless steel running surfaces to ensure long wear and high speed operation. The heavy loads and almost continuous use of overhead, gantry or port cranes requires a heavy duty conductor system to provide constant power safely and efficiently. Do not risk damaged product or serious injuries with obsolete and inferior conductor systems. Waukesha Crane retrofits your existing heavy duty electrification solution to a new, up-to-date conductor system. No matter what your shop's power requirements may be, Waukesha Crane has a conductor system to electrify your equipment.